Recent News From
All Categories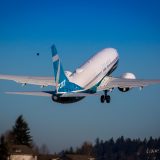 The Aviation Industry Skills Board (AISB) has launched the UK's first ever...
Popular News
All Time
Dawn of the DTO

Why do we do it? By Darragh Owens

Hong Kong Scholars gain PPLs in Scotland

Liz Inwood Taildragger Scholarship receives £1,500 donation

Once in a while we allow some of the inmates at FTN Towers to climb on to their soap box and get something off their chest. Normal service will be resumed in the next issue…

Diamond Aircraft acquired by Chinese Wanfeng Auto Holdings Group

After more than five years of debate amongst aviation regulators and uncertainty for Europe's flying schools and clubs, the EU Parliament will shortly vote on new regulations for PPL flying schools....