Recent News From
All Categories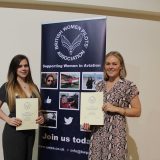 The British Women Pilots' Association (BWPA) has launched its 2019...
Popular News
All Time

Complying with rules and checklists is a good idea, but we must understand the reasons why they are there In a flying club I instructed in some years ago I was taxiing out towards the runway one...

British European Aviation (BEA) has announced its appointment as the exclusive dealer in the UK for Piper Aircraft. BEA was formed in 2010 by combining several GA businesses including Heli Air and...

Cloud Global, based at Perth airfield in Scotland, have purchased Carlisle-based Border Air Training in a deal that will significantly expand Cloud Global's flight training operations. Border Air...

The Future Airspace Strategy VFR Implementation Group (FASVIG) has just completed version 2 of its 'Register of Significant VFR Areas'. The term VFR Significant Area is applied to a volume of...

Ice. Our normal routine is to forget about ice until we see a weather forecast for the next day that causes us concern. If frost is forecast and we have a lesson at 0900, we wait until everyone else...

"London Control, Grosvenor Zero Three Bravo, request descent!ˮ my voice on the R/T may have sounded calm, but I felt far from it. The reassuring voice in my headphones returned with; "Standby...